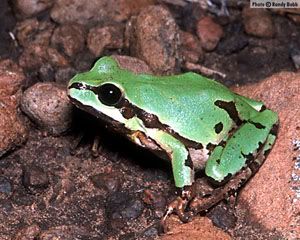 (Photo by Randy Babb, courtesy of the Reptiles and Amphibians of Arizona website:  http://www.reptilesofaz.org/Turtle-Amphibs-Subpages/h-h-wrightorum.html )
Two Arizona Game and Fish Department non-game biologists recently reported in Herpetological Review that the introduced and invasive Bullfrog (Lithobates catesbeianus) has been documented to prey upon Arizona Treefrogs (Hyla wrightorum) that occur in a disjunct, isolated population in the Huachuca Mountains and Canelo Hills.
In July of 2008 Thomas Jones and Ross Timmons collected two adult Bullfrogs from a small temporary pond where H. wrightorum were calling.  One of the Bullfrogs contained four adult treefrogs, while the other contained three.  Given that treefrog breeding sites in this population may consist of only 2-30 adults of this high elevation species, it is apparent that the presence of the highly predatory Bullfrogs may comprise a serious threat to the much smaller treefrogs.
The biologists also speculated that since all of the sexable Hyla recovered from the Bullfrogs' stomachs were males, the Bullfrogs may have been using the sounds of the chorusing male treefrogs to hone in on their small temporary breeding ponds.  Alternatively, it is possible that the female treefrogs simply had not yet arrived at the ponds since these observations were made early in the monsoonal breeding period.
Bullfrogs are not generally considered to be a high elevation species (these observations were made at 1890 m [6200 ft]), and considering their extended larval phase, are somewhat of a surprising predator in an area where most potential breeding ponds are seasonal at best.  Jones and Timmons, however, note that the Bullfrogs have managed to breed for several years in a permanent, spring-fed pond near the head of the canyon where the predation occurred.  Even more ominously, the biologists assert that the Bullfrogs are capable of quickly covering great distances during the summer monsoon season, which would allow them to temporarily occupy other treefrog breeding sites, potentially depleting them also. 
This disjunct population of H. wrightorum, has recently been declared a "candidate" for listing under the Federal Endangered Species Act and this observation provided the first documentation of the threat previously suspected to be posed to the Arizona Treefrog by this rapacious introduced predator. 
Fortunately, Jones and Timmons were engaged in an effort to remove Bullfrogs from the canyon when these observations were made and, considering their findings, such activity must be continued if not redoubled if we hope to assure the continued existence of the beautiful little Arizona Treefrog in this herpetologically fabled area. 
Jones, Thomas R. and Ross J. Timmons. 2010. Hyla wrightorum: predation.  Herpetol. Rev. 41(4): 473-474.