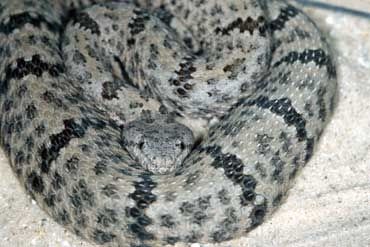 A Mottled Rock Rattlesnake (Crotalus l. lepidus) from the Davis Mountains of west Texas.
It has generally been assumed that small rattlesnakes, in which lizards comprise a significant portion of the diet, employ a different technique for subduing such prey; that is, that they strike and hold onto lizards (which pose little danger to the attacking snake), as opposed to the striking, envenomating, tracking behavior they use against small rodents, which are capable of defending themselves by biting.
Biologists Vicente Mata-Silva, Jerry D. Johnson, and Arturo Rocha of the University of Texas at El Paso were following a radio-transmitter-equipped adult male Mottled Rock Rattlesnake (Crotalus l. lepidus) at the university's Indio Mountain Research Station in Hudspeth County, Texas when they found the snake near a dying Greater Earless Lizard (Cophosaurus texanus).  That the lizard had been struck and envenomated was surmised from two bloody puncture wounds on its dorsal surface.  Shortly thereafter the snake began what was described as "frenzied" tongue-flicking searching behavior.  Locating the lizard, the snake grasped it by the head, dragged it beneath a nearby bush, and commenced the swallowing process.
Although C. lepidus undoubtedly frequently retains its hold on struck lizards, as conventional wisdom has long maintained, this observation indicates that they are equally capable of tracking down lizards that have been struck and released.
Mata-Silva, V., Johnson, J.D., and A. Rocha. 2011. Crotalus lepidus: Feeding behavior. Herpetol. Rev. 42(3): 439.