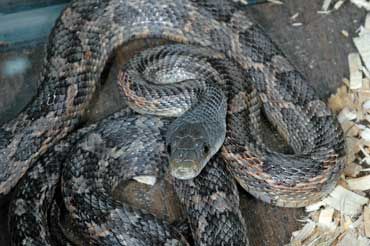 A possible hybrid Pantherophis bairdi X P.o. lindheimeri from Bandera County, Texas.
Inevitably when the topic of hybrids/intergrades between Texas and Baird's ratsnakes comes up, someone always says something along the line of, "Well, let's just test their DNA and find out for sure."  This line of reasoning sounds quite logical, but it has always presumed that protocols for such determinations were already out there, just waiting to be applied to this very problem.  Now, however, such a technological solution appears to actually exist.
I perked up when I first saw the title of this new paper by Michael W. Vandewege and associates: "Evidence of Hybridization between Elaphe bairdi and Elaphe obsoleta lindheimeri Including Comparative Population Genetics Inferred from Microsatellites and Mitochondrial DNA."  Dealing with a topic near and dear to my heart, I quickly flipped through the pages to the beginning of the article.
Unfortunately, though, there is very little in this typically jargon-dense phylogenetic publication that will be of use - or even decipherable - to the average herper in the field.  To their credit, of course, this team has now established a protocol, using both mitochondrial and nuclear genes, that can be used in the laboratory to determine the genetic lineage of any questionable specimen of E. bairdi or E.o. lindheimeri one is likely to encounter in central or west Texas.
Vandewege et al. also managed to confirm the suspicions of earlier workers (e.g., Lawson and Lieb, 1990) that F1 hybrids between these two species are fertile and that backcrossing does occur, meaning that not every hybrid found will be a 50%-50% mixture of each parental species; the relative percentages of bairdi and lindheimeri in any given admixture can vary significantly.  They also determined that the issue of hybridization is limited to the zone of sympatry, consisting primarily of the south-central portion of the Edwards Plateau, and apparently does not affect populations of either species occurring outside of that zone.  Additionally, they have determined that whatever hybridization events are occurring are most likely the result of secondary contact and that these two lineages have been evolving independently and, therefore, are best regarded as full species, even though each is the other's closest relative.
All of the genetically identified hybrids detected in this study came from the Junction area of the South Llano River drainage in Kimble County (most drainages in the south-central portion of the Edwards Plateau appear to also harbor hybrids [see Lawson and Lieb, 1990, which remains the best morphological assessment of hybridization between these two species].  The authors report, however, that only five (8.9%) of their total sample of 56 specimens (most of which were collected in wide-ranging areas of central and west Texas, where hybrids would not be expected) showed genetic evidence of hybridization and they consequently conclude that such events (even in the zone of sympatry - the Junction area in this study) are "infrequent."  Since the authors found no hybrids outside of the zone of sympatry, however, it would seem to follow that the frequency of hybrids within the zone of sympatry must be >8.9%, although we are not provided with the total number of specimens from the hybrid zone.
As indicated in the earlier study of Lawson and Lieb (1990), morphological characters can be quite useful in detecting many cases of apparent hybridization between these two species, with the number of dorsal body blotches (mainly in juveniles) being absolutely diagnostic, where apparent (lindheimeri = 27-37; bairdi = 44-61).
Vandewege et al. sought to initially classify each of their specimens according to morphological characters provided by Olson (1977) for bairdi and by Burbrink (2001) for lindheimeri, although some of Olson's characters (e.g., # of supralabials, subdivision of genials, presence of stripes, etc.) were later shown to be of little diagnostic value by Lawson and Lieb (1990).  Based on morphology alone, three of the authors' 56 specimens were considered to be possible hybrids.  When the molecular data was analyzed, however, it actually showed that five specimens were genetic hybrids.  Significantly, the five genetic hybrids included the three that were detected morphologically.
Perhaps the most pragmatically refreshing aspect of this paper is the authors' insistence on retaining their "classically accepted" taxon names (i.e., Elaphe bairdi for the Baird's Ratsnake and Elaphe obsoleta lindheimeri for the Texas Ratsnake).  Note also that they chose to retain the subspecies name "lindheimeri," rather than dumping all populations to the west of the Mississippi into "Pantherophis obsoletus," as has become the fad among the majority of phylogeneticists nowadays.  This is especially so considering that the paper was published in the SSAR's Journal of Herpetology, which has a reputation for enforcing its own vision of standardized nomenclature.  Perhaps it was the authors' innocent yet bold statement that, since they consider the nomenclature of this genus to be "unresolved," - and, by implication, do not regard Burbrink (2001) to necessarily represent the final word on its phylogeny - it is appropriate to retain the more traditional taxonomic arrangement.
Literature Cited [unfortunately, I cannot find PDFs for any these papers]
Lawson, R., and C.S. Lieb. 1990.  Variation and hybridization in Elaphe bairdi (Serpemtes: Colubridae).  J. Herpetol. 24(3): 280-292.
Olson, R.E. 1977.  Evidence for the species status of Baird's ratsnake.  Tex. J. Sci. 29(1): 79-84. 
Vandeweege, M.W., Rodriguez, D., Weaver, J.P., Hibbetts, T.D., Forstner, M.R.J., and L.D. Densmore, III. 2012.  Evidence of hybridization between Elaphe bairdi and Elaphe obsoleta lindheimeri including comparative population genetics inferred from microsatellites and mitochondrial DNA.  J. Herpetol. 46(1): 56-63.