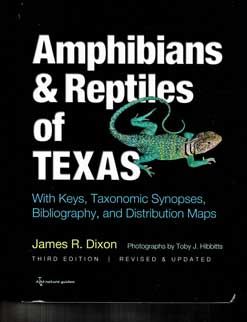 Amphibians and Reptiles of Texas, With Keys, Taxonomic Synopses, Bibliography, and Distribution Maps (Third Edition, Revised and Updated) by James R. Dixon, Photographs by Toby J. Hibbitts. Texas A&M University Press: College Station, 2013. W. L. Moody Jr. Natural History Series. Softcover.  460 pp.  List: $39.95, Amazon: $26.89. ISBN 978-1603447348

Review by Tom Lott
This latest revision of what has become "The Bible" of advanced Texas herpers immediately catches the attention of owners of the previous editions in that it is obviously "new and improved."  Delving into the statistics confirms that suspicion: it is exactly twice the weight of the previous edition, most likely due to the heavier, glossy paper on which it is printed, although it contains only twenty-eight more pages than its predecessor;  it is physically larger than the second edition by almost an inch in length as well as width; it sports an improved binding, intermediate between a high-end paperback and a top-shelf hard cover edition, as well as the durable-appearing plasticized covers that have graced the rival University of Texas Press Natural History Guide series for some time now; and the cover is printed in color, providing a foretaste of what is perhaps the most significant alteration to this venerable series: the inclusion of color photographs of every herp species known to occur within the boundaries of the state.
 Unfortunately, such improvements, even in this age of computerized typesetting and relatively frugal Chinese printing factories, invariably result in an increase in price as well.  I can't remember what I paid for my now well-worn Second Edition (Dixon 2000), but I am certain that it was less than half of the $40 list price, and probably even less than half of Amazon's discounted price tag.
As mentioned above, the extensive inclusion of high quality color photographs in this version serves to set it apart from the two previous editions, and doubtless tends to make it a more valuable resource for casual users who, in my experience, lean more toward identifying specimens from photographs, rather than using the provided dichotomous keys, which unavoidably contain anatomical terms unfamiliar to the uninitiated.  The photographs used are largely of excellent quality, with the vast majority having been taken by Toby J. Hibbitts, who is credited on the cover, along with a handful of other photographers who are recognized in the respective captions for their work.  Locality to the county level is generally provided for each photograph, and it is obvious that a special effort was made to use photos of examples actually from Texas whenever possible.  The photos appear to be printed with attention to their correct color registration and, in most cases, are rendered in a gratifyingly large format, frequently occupying as much as a third of a page.  Considering that the previous edition contained only twenty-five black-and-white plates in total (out of 284 herp taxa recognized at the time), this represents a considerable concession to what is, by all accounts, a more visually-oriented population nowadays - and definitely makes for a more attractive upgrade to the series.
Still, as one rare negative reviewer of the second edition on Amazon noted, this book is not "intended for the use of the general public."  At its academic heart, however, are its distribution maps, taxonomic comments, and especially its cumulative bibliography, none of which are of much interest to the casual user.  To the serious student of herpetology, however, they are a treasure trove.
The distribution maps, which serve as the authority for countless range extensions and county records published in Herpetological Review each year, are now included within each species account rather than being isolated in their own section as before.  They also retain the familiar county outline form, with a central dot indicating a confirmed record for a county.  Gone, however, are the solid lines serving to indicate species and subspecies boundaries in the previous editions.  Instead there are different-colored dots for each subspecies (by county), which suggest, rather than indicate, the boundaries of each taxon.  For a very  few well-documented subspecies, intergrade zones are depicted with intermediate-colored dots, but when darker colors are used, the maps must be viewed in very good light to distinguish between them.  The maps appear to be current, at least through the year 2010, although in a cursory examination I did notice that a Guadalupe County record for Lampropeltis calligaster (Ferguson and Forstner 2005) was omitted, and a supposed Crockett County record for Eleutherodactylus cystignathoides actually represents an unremarkable locality for E. marnockii (Pope et al. 2008). 
There unfortunately appears to be little or no use of the various "citizen science" databases, such as the HERP database of the North American Field Herping Association (NAFHA), to further refine the distribution maps.  Given the "austerity" trend currently prevalent among political funding entities, combined with the tendency of the ascending phylogenetics camp to denigrate traditional morphology-based museum collections (as well as the increasingly rare conventional taxonomists), it would appear that in the future tissue samples and photographic locality vouchers will increasingly become the norm.  It seems somewhat ludicrous to waste space in peer reviewed publications for simple locality records that could be more easily posted to an online database (most of which appear to be serious about self-policing - probably the truest form of "peer review"); and it's not like some real "stinkers" haven't ever gotten past Herp Review's reviewers!  Hopefully the failure to use these resources isn't merely due to "academic snobbery." 
 Taxonomically this latest edition remains characteristically conservative, with many of the recently-proposed generic names placed parenthetically between the more traditional genus and species names [e.g., Bufo (Anaxyrus) debilis].  Although this is the accepted form for indicating subgenera in taxonomic nomenclature, that does not appear to be the author's intent here, but rather to merely associate the novel and traditional names in hopes of alleviating confusion.  Most of the more significant taxonomic changes (or proposals, as I prefer to think of them) at the genus level are addressed in a new beige-tinted text block to be found at the beginning of the treatment for each affected genus.  Changes below the genus level continue to be discussed in the "Comments" section for each taxon; most of these are carried over with little change from the previous edition(s).  Subspecies are retained much as they were in the previous editions, with little evidence of capitulation to the "evolutionary species" crowd, who would eliminate subspecies all together or, alternatively, promote all of them to full species. 
For the really serious herpetologist (professional or avocational) the meat of the current volume lies in its third major section - the literature citations.  For anyone who has ever had to teach "the" scientific method, regardless of which paradigm you use, there is that most important step typically placed between "Defining the Problem" and "Designing the Hypothesis," usually summarized as "Researching the Problem."  In the biological sciences, "research" means tracking down virtually every reference to your study taxon ever published in the technical literature.  Although the internet has softened this task somewhat, actually obtaining copies of the papers pertinent to one's research can still be daunting, barring ready access to a substantial university library.  The present volume lightens that load to some extent, especially for those studying forms whose distributions are largely centered on Texas.  There are 4234 literature citations in this third edition, a significant addition to the 1107 listed 41 years ago in the scholarly predecessor (Raun and Gehlbach 1972) to this current series.  One should note, however, that the citations, numbered and listed alphabetically in the bibliography, have been renumbered (there are now no decimal points), whereas the first two editions of this work kept the same numbers as the Raun and Gehlbach volume by adding decimal points. 
For the bottom line, anyone who is serious about the study of Texas herpetology will benefit from purchasing this book: for those without either of the previous two editions, it is indispensable; for those who already own one or both of the previous editions, there is enough new and updated material to make it worth your while, even at the elevated price (and even without the beautiful photographs).   Congratulations to Drs. Dixon and Hibbitts for producing another outstanding addition to the growing bounty of Texas herpetology publications.
Literature Cited
Dixon, J.R. 2000. Amphibians and reptiles of Texas. (2nd edition). College Station: Texas A&M Press, 421 pp.   
Ferguson, A.W. and M.R.J. Forstner. 2005. Geographic Distribution. Lampropeltis calligaster Herpetological Review. 36(4):469.
Pope, B. D., Roelke, C. R. and Makowsky, R.  2008.  Geographic distribution.  Eleutherodactylus (=Syrrhophus) marnockii.  Herpetol. Rev. 39 (3): 362.
Raun, G.G. and F.R. Gehlbach. 1972.  Amphibians and reptiles in Texas. Dallas Mus. Nat. Hist. Bull. 2: 1-61.