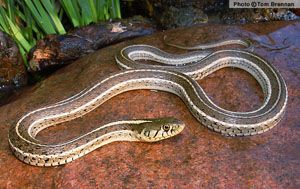 Photo of a specimen from Gila County, AZ. By Tom Brennan,
courtesy of  The Reptiles and Amphibians of Arizona website 
Last documented from the state in 1994, many were convinced that this state-listed (Endangered) species had actually been extirpated from its southwestern montane, riparian redoubt due to a combination of habitat loss from overgrazing and wildfire damage, as well as unsustainable predation from introduced invasive predators, especially bullfrogs and crayfish. 
In June of this year, however, Doug Hotle and his crew of herpetologists from the Albuquerque BioPark Zoo discovered three survivors along the Gila River, where they are said to persist in zones of thick vegetation, feeding on tadpoles and minnows.
"This is a huge find for our team. We have spent nearly three years and thousands of man-hours looking for the northern Mexican gartersnake.  Although many have written this species off for the state, we thought it was still here somewhere undetected. This discovery means there is still hope for the species and its habitat." - Doug Hotle, Curator of Reptiles and Amphibians, Albuquerque BioPark Zoo .
Hotle and the zoo hope to establish a breeding colony of the snakes with the ultimate goal of reintroducing some back into their natural habitat.
[h/t to Mark Brown]