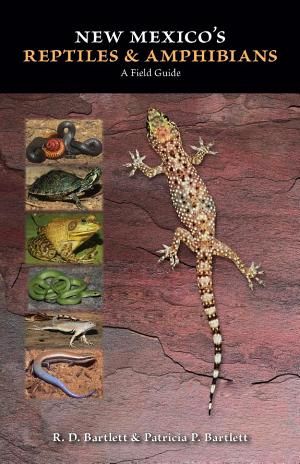 Book Review:  New Mexico's Reptiles and Amphibians: A Field Guide
by R. D. Bartlett and Patricia P. Bartlett
Albuquerque: University of New Mexico Press, 2013
Paperback. 248 pages, 203 color plates, 10 drawings, 134 maps.  ISBN 978-0826352071
List: $24.95; Amazon: $20.42 (Kindle Ebook: $19.40); Barnes & Noble: $20.42 (Nook Ebook: $13.99)
Review by Tom Lott
[This review refers to the Barnes & Noble Ebook version of this title, which was viewed using the Nook app for Android systems on a Samsung Galaxy 3 tablet]
Considering the extent and diversity of New Mexico's herpetofauna, it is somewhat surprising that more attempts haven't been made to provide a suitable field guide for the state.  The first serious effort appears to be the long out-of-print 176 page work produced by Williamson, Hyder, and Applegarth (1994), which covered 123 species with a color photo and a moderately detailed distribution map (county outlines, watercourses, etc.) for each.  This book also contained dichotomous identification keys to the species level for all taxa (it did not, however, deal with subspecies). 
Two years later came the still-reigning magnum opus on New Mexican herps by Degenhardt, Painter, and Price (1996), which, though it is certainly not a field guide given its size and mass, is by far the best resource available for these animals in the state.  Although it was plagued by an unfortunate spate of largely typographical errors upon its release (which were promptly corrected via a corrigenda published in Herpetological Review [Price et al. 1996]), I think most of us were hoping for an eventual distillation of this volume into a field guide format.  That was not to be.
Thus, almost twenty years later, enter Dick and Patricia Bartlett, perhaps the most prolific authors of herpetological books ever, with scores of titles to their credit.  While primarily associated with publishers catering to the pet trade, they have also produced several creditable field guides in the process, the current one bearing the imprimatur of an academic press (the University of New Mexico), which also produced the previous scholarly work on that state's herpetology (Degenhardt et al. 1996). 
I must confess a slight bias here: I personally prefer state guides that are produced by actual (or at least former) residents of the area in question; the Bartletts, though extensively travelled, have long resided in Florida.  Additionally, the Bartletts have produced so many field guides for various regions that their guides are becoming to seem a bit formulaic, which isn't necessarily a bad thing, provided that they continue to improve (e.g., compare Roger Conant's inaugural herp guide (1958) to his later editions [e.g., Conant and Collins 1998]).  Unfortunately, the current effort by the Bartletts doesn't measure up to some of their earlier works on Texas (1999) and Florida (1999), which were quite good in comparison.
This current field guide covers 133 species, the increase over the previous books being largely due to various taxonomic splits that have padded the total.  Each species account includes the following headings: taxonomic note, abundance/range, habitat, size, identifying features, similar species, range map with subspecies), and comments.  The anuran accounts also contain a "voice" section describing vocalizations.  Subspecies are included and are addressed to a much greater level of detail than in previous works, with each recognized subspecies receiving its own treatment within the species accounts.
The "Habitats of New Mexico" portion of the introduction purports to use the Nature Conservancy's "ecoregion" system to divide the state into seven ecological regions with a short text description of each region along with a stylized map of those regions.  These are actually seldom referred to in the species accounts, however, and although there are several "habitat" shots among the color plates, these appear to be random and unrelated to particular "ecoregions."  
Though there are extensive sections on the captive care of herps, there is virtually no mention of the possible legal ramifications involved with the collection and/or possession of native herps.  Remarkably, even though New Mexico lists twenty-one native herp taxa as either endangered or threatened, with attendant closed seasons, this is mentioned in passing in the species accounts of only three of them: the Sand Dune Lizard (Sceloporus arenicolus), the New Mexico Ridge-nosed Rattlesnake (Crotalus willardi obscurus), and the Narrow-headed Gartersnake (Thamnophis rufipunctatus).  In fact, despite its "protected" status within the state, the Bartlett's account for the Gray-banded Kingsnake (Lampropeltis alterna) contains the following statement, "[h]obbyists hunt roadcuts and canyons with powerful lights for this coveted species," incorrectly implying that this activity is condoned in New Mexico (although it is legal in adjacent Texas).
The range maps included in this volume are typical of those found in the Bartletts' other field guides, consisting of somewhat stylized depictions superimposed atop a rather barren state outline.  The sole political/geographical detail provided for reference is the Rio Grande, which virtually bisects the state north-to-south.  It is almost as if the authors deliberately wished to provide as vague a representation of the distribution of these animals as possible, which is problematic considering how many times they refer the reader to the range maps to identify morphologically similar taxa.  At least the Bartletts' range maps are nested within the species accounts - unlike the color plates - so one does not have to hunt them down. 
A curious variation on the use of dichotomous identification keys is also presented in this volume.  The provided keys start from the assumption that the user already knows whether the animal in question is a salamander, anuran, turtle, snake, or lizard and a short, separate key is then provided for each of those groups.  From that point the keys offer the user the usual paired choices that, answered correctly, lead only to the taxonomic family to which the animal belongs.  From there the user is referred to the text treatment for that particular family, thereupon to wade through the individual species accounts to hopefully find the correct taxon.  Whether this treatment represents another movement in a trend toward eliminating dichotomous keys from popular field guides altogether is questionable, but this reviewer has long held the opinion that modern, casual users seldom actually resort to keys for higher animals when adequate line art and/or photographic illustrations are available. 
On that note, the current volume includes at least one color photo of every species (and most subspecies) of  herp to be found in New Mexico.  The photos are not individually credited, leading me to presume that they are all the work of Dick Bartlett, whose skill as a photographer is well-known and deservedly so.  Unfortunately, the color plates are accumulated within their own section in the middle of the volume rather than being individually positioned within the corresponding species accounts.  I suppose there is an over-ruling economic reason for this (especially in the hard copy editions of such books), as it is common practice even with such highly-regarded field guide publishers as Houghton-Mifflin.  Recent offerings from the University of Texas Press and the Texas A&M Press (e.g., Tipton et al. 2013, Dixon 2013, respectively), however, have definitively shown that including color photos within the appropriate species accounts is not only possible, but doing so creates a more attractive and informative work.  In keeping with tradition in Bartlett-authored field guides, each species account is numbered and this number corresponds with the numbered color photo(s) located elsewhere (subspecies are referenced with a letter following the species number, which again matches the appropriate photo).  It remains a curiosity, however, as to why the publisher chose to highlight a photo of the non-native Mediterranean Gecko (Hemidactylus turcicus) on the cover of the book. 
Since field guides arguably influence the acceptance or rejection of proposed nomenclatural changes as much - or perhaps even more - than "official" standardized lists, the level of taxonomic novelty adopted by the Bartletts' is refreshingly conservative.  Many recently proposed splits, especially of cosmopolitan genera (e.g., Rana, Bufo) are acknowledged but hardly embraced.  Consequently in these cases such taxa are generally listed in the manner suggested by Smith and Chiszar [2006, i.e., with the new genus name inserted parenthetically, as a subgenus, between the traditional one and the specific epithet; e.g., Bufo (Anaxyrus) debilis].  The Eumeces > Plestiodon and Cnemidophorus > Aspidocelis splits, however, are adopted without comment.  Masticophis is also retained for the whipsnakes instead of accepting their proposed lumping into the racers (Coluber).
Below the genus level some recent proposed splits are mentioned but not adopted, citing a purported failure of these schemes to gain general acceptance (e.g., notably the recent proposed of splits of Lampropeltis getula, Crotalus molossus, etc.).  The proposed split of Lampropeltis pyromelana, which would render two species of mountain kingsnakes within the state is neither mentioned nor adopted. Additionally, the Hopi Rattlesnake (Crotalus viridis nuntius) is retained as a valid subspecies of the Prairie Rattlesnake in the extreme northwestern corner of the state with only the comment that many herpetologists no longer recognized this particular race. 
As for common names, it is clear that the Bartletts have not signed onto any of the so-called standardized lists, although they do appear to be consistent with their own previous usages, capitalizing common names as the proper nouns they are and hyphenating compound names, which in my opinion, seems more grammatically appropriate than any of the proposed alternatives.  This is also the system employed by the American Ornithological Union (AOU), which has seen light-years more success with common name standardization than has any herpetological proposal.  This in itself can hardly constitute a major criticism of this work, however, regardless of where one stands on the standardization question. 
Since many, if not most, of the users of any herpetological field guide will at some point be involved in activities that could fall under the self-servingly broad definitions of "take" employed by most state wildlife agencies, it would seem implicit that modern state field guides have an obligation to cite collection regulations in force in that state at the time of publication or at least refer the reader to appropriate websites where (hopefully) the latest rules might be found.  New Mexico's herp regulations are currently relatively lenient (even commercial collection of most species is allowed with the appropriate license), but there are bag limits that must be observed, along with the aforementioned twenty-one E/T species that have no open season.  Unfortunately, none of this is mentioned in this field guide, unlike some of the Bartlett's other state guides (e.g., Bartlett and Bartlett [1999]), which covered regulations in force at the time of their publication.  For the record, some of the websites that should have been mentioned are:
NM regulations for commercial collecting
Additionally there is no mention in this field guide of networking and citizen science opportunities for herpers in the state available via the internet.  There is an apparently active state herpetological society that maintains a website with excellent photos of the majority of New Mexican herps, holds regular meetings (including field meets), undertakes herp surveys, and publishes a newsletter.  The North American Field Herping Association (NAFHA) maintains an on-line database that amasses quality field data on the distribution and ecology of amphibians and reptiles that is available for anyone to participate in.  And of course the Southwestern Center for Herpetological Research (SWCHR) also maintains an extensive collection of photographs of southwestern herp species and provides numerous discussion forums where those interested in the herpetofauna of the area can exchange ideas and experiences.
In closing, I will simply lament that this field guide failed to live up to my expectations for what it could have been, and to what the Bartletts are certainly capable of producing, and I am moved to paraphrase a certain former Defense Secretary of the United States in that sometimes we must use the field guide we have rather than the one we might wish to have!
Comments specific to the Nook ebook version of this book:
In the Nook edition that I reviewed there were no hyperlinks from the family results obtained in the keys to the corresponding treatments in the text, nor were there any referrals to even the appropriate page number since there are no "absolute" page numbers when one is allowed to vary the size and font type of the text.  This could be alleviated to some degree by merely retaining the original print edition page numbers in the scanned page view, which were doubtless referenced in the print edition keys.
Neither are there hyperlinks or page references from any of the species accounts to the appropriate color plate illustrating that particular taxon.
 In the Nook Ebook version of this book the plates are arranged two to a "page" and each may be enlarged to two or three times the default size with the familiar "pinching/spreading" motion of the thumb and forefinger; doing so imparts little or no detectable pixilation or image degradation.
A major problem, however, with the color plates in the Nook Ebook version that I reviewed is that they are hard to find!  Although there are numerous helpful text hyperlinks from the table of contents to the corresponding species accounts, there are no such links at all from any text section to the colored plates.  And even though the plate section is listed in the table of contents, there is no hyperlink, nor indication of any kind, as to exactly where the plate section might be found!  To locate the plates one must either swipe through the entire book until you fortuitously encounter them (provided you do not flip through the pages too fast, in which case you can go right past them, as they take a couple of seconds to load), OR, with any luck you will notice that there is a substantial gap in "page" numbers in the drop-down contents section, roughly between the end of the snake accounts and the beginning of the lizard accounts; therein you will find the accumulated color plates.
[Thanks to Toby Brock for comparing my comments on the ebook version of this guide to a hard copy to verify that my criticisms of the former also apply to the latter.]
Literature Cited
Bartlett, R.D. and P.P. Bartlett. 1999.  A Field Guide to Texas Reptiles and Amphibians.  Houston: Gulf Publishing Company, xviii +331 pp.
__________________________.  A Field Guide to Florida Reptiles and Amphibians.  Houston: Gulf Publishing Company, xvi + 278 pp.
Conant, R. 1958. A field guide to reptiles and amphibians of the United States and Canada east of the 100th meridian. Boston: Houghton Mifflin Co.
____________. and J.T. Collins. 1998. A field guide to the reptiles and amphibians: Eastern and central North America. 3rd edition (expanded) Boston: Houghton Mifflin Co.
Degenhardt, W.G., Painter, C.W., and A. H. Price. 1996. Amphibians and reptiles of New Mexico. Univ. New Mexico Press, 431 pp.
Price, A.H., Painter, C.W., and W.G. Degenhardt. 1996. Corrigenda to Amphibians and Reptiles of New Mexico by W.G. Degenhardt, C.W. Painter, and A.H. Price, published by the University of New Mexico Press, July, 1996. Herpetol. Rev. 27(4): 173.
Smith, H.M. and D. Chiszar. 2006.  Dilemma of Name-Recognition: Why and When to Use New Combinations of Scientific Names.  Herpetological Conservation and Biology 1(1): 6-8.  
Williamson, M.A., Hyder, P.W., and J. S. Applegarth. 1994. Snakes, Lizards, Turtles, Frogs, Toads & Salamanders of New Mexico: A Field Guide.  Santa Fe: Sunstone Press, 176 pp.