Or, as some would no doubt say, what's right with this picture?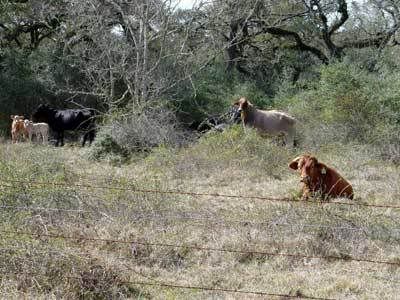 Small herd of cattle near Blessing, Matagorda County, Texas
(Answer below the fold)
There are no Cattle Egrets around these bovines. In fact, during an entire 236 mile trip from near Bay City, Texas to our home south of San Antonio—when we were specifically looking for them—we counted exactly zero Cattle Egrets among hundreds of cattle herds of various sizes. A few weeks earlier, we managed to count only four egrets during a roughly 200 mile trip from the Baffin Bay area south of Kingsville (the epitome of cattle country) back home. Even during late winter, Cattle Egrets are usually quite prominent among the roadside avifauna in this area. Clearly something is going on with this species in south Texas.
I seemed to recall reading some mention of a decline in Cattle Egrets on the TEXBIRDS list server last year, but I paid little attention to it because I was still seeing the birds locally; they're so abundant around here that one doesn't really notice them. But when you suddenly don't see them, it takes a while to register that something is missing.
Fortunately, a handy, relatively objective resource is available that can begin to answer some of these questions: the National Audubon Society's Christmas Count data. I visited the website and quickly requested a graph of the numbers of Cattle Egrets reported statewide from 1953 until 2006. Now a statewide graph is slightly misleading because these birds apparently retreat from inland areas during winter and congregate towards the coast. Nevertheless, it is a start.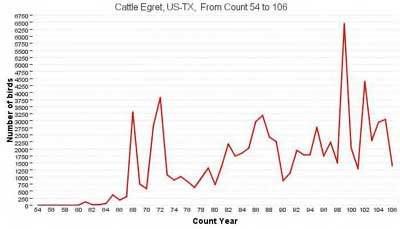 Graph of # birds seen vs. CBC years 1953-2006
The resulting graph (above) shows that this species is quite cyclical in abundance during early winter. It is worthy of note, however, that the numbers reported in the most recent CBCs rival the historical lows.
It's certainly something to keep an eye on regardless of how one feels about the legitimacy of this bird's presence here.
National Audubon Society (2002). The Christmas Bird Count Historical Results [Online]. Available http://www.audubon.org/bird/cbc [accessed 23 FEB 2007]