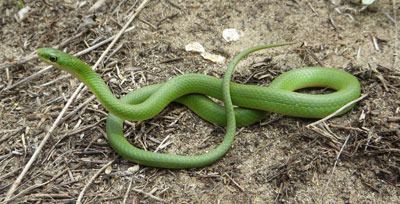 Photo by Don Becker of a specimen from an Iowa sand prairie within its usual range (CC BY-SA 4.0)
 Introduction
As I mentioned in an earlier article (Lott 2015), the history of the Smooth Green Snake (Opheodrys vernalis) in Texas has been controversial, largely due to the doctrinaire insistence by the chief authority on the species (the late Arnold B. Grobman 1918-2012) that all such records of this snake were erroneous, the actual specimens being the result of human introduction.  This intransigence was also applied to purported records from several other southern states and, indeed, some of those reports have been shown to be incorrect.  However, there is ample cause to believe that viable, indigenous, but largely relictual populations of this secretive, cryptically-colored snake exist in Texas and some of its surrounding states. 
In 1973 Richard B. Worthington thoroughly reviewed all of the available records of O. vernalis from Texas, including a road-killed specimen he had collected nine years earlier in what is now urban Houston (Worthington 1973).  No known new specimens have appeared from that state during the forty-two years since Worthington's paper, despite the dogged efforts of a number of enthusiasts at identified localities and other areas deemed ecologically plausible habitat.  Nevertheless, the time appears appropriate for a new summary to consolidate our sparse understanding of possible remaining populations at the southern terminus of its once even more substantial range.    
The Early Texas "Specimens"
"Owassee," Texas (1883) - A specimen purported to be from "Owassee," Texas by Yarrow (1883) exists in the United States National Museum (USNM 1489).  According to Worthington (op. cit.) the ventral counts on this female snake (125) place it in the nominate subspecies, rendering it highly unlikely to have originated from Texas.  Additionally, since no settlement of that name appears to exist within the state, it would seem  the locality datum on this particular specimen is in error and that it is not from a Texas locality.  
Deming's Bridge, Matagorda County 1 (1890) - The official history of the Smooth Green Snake in Texas begins in 1890 when an F.W. Walmsley collected two specimens near Deming's Bridge in Matagorda County.  These specimens were described by Samuel A. Garman in 1892 and apparently, at least, one is still extant under the catalog number 19887 in Harvard University's Museum of Comparative Zoology.  The Deming's Bridge locality cannot be found on modern maps as it has not existed since near the turn of the nineteenth century, but it is well known in the area and is represented by a state historical marker.  Thus, at least one of the original specimens reported from Texas is genuine.  This discovery was not particularly controversial at the time, given the rudimentary state of herpetological knowledge in Texas in the 1890s.  (Garman 1892)
Armstrong County (1905) - The next purported Opheodrys vernalis  specimen from Texas was reported by Vernon Bailey in his 1905 "Biological Survey of Texas."  This specimen was allegedly from the Panhandle community of Washburn, Armstrong County.  Bailey made no reference to the ultimate disposition of this specimen and Grobman (1941) was unable to locate it for his revision of the species 36 years later.  Grobman rejected this record due to his observation that, "The accepted records that are represented by reliable museum specimens and that are south of the junction of the Ohio and Mississippi Rivers are from the mountains, which is not true for any of the Texas locality records" (Grobman op. cit.).  With this statement, any future specimens from Texas became controversial.
Bosque County (1907) - Another O. vernalis supposedly collected at Clifton, Bosque County, Texas, by Atkinson and Link on May 29, 1907, was assigned the catalog number 442 in the collection of the Carnegie Museum.  In correspondence with M. Graham Netting, of the Carnegie Museum, Arnold B. Grobman (op.cit.) was able to determine  the scalation of this specimen would place it in the eastern race of the species, unlikely to be found as far southwest as Texas.  Additionally, Netting noted  the reliability of the collectors' records was highly questionable.  Worthington (op. cit.) further questioned the validity of this specimen and the locality was regarded as erroneous (without comment) by Dixon (1987). 
Ellis County (1931) - Grobman apparently also came across an additional record from Texas during his examination of museum specimens for his upcoming revision.  Collected by a well-known herpetologist of the time, Charles Burt, specimen UMMZ 84096 in the University of Michigan's Museum of Zoology, bore the collecting datum "10 miles south of Waxahachee [sic][Ellis County], Texas" and was collected in April 1931.  Grobman rejected this more recent Texas specimen on the basis of its distance from the normal range of the species, pending the collection of additional specimens from the same area.  Richard D. Worthington (op. cit.), however, expressing doubt  Grobman actually examined UMMZ 84096, came up with an even better reason for rejecting this particular specimen: it was actually a misidentified Rough Green Snake (Opheodrys aestivus). 
The Grobman Monograph (1941)
In 1941, Arnold B. Grobman published his monograph on the Smooth Green Snake and it remains the seminal document regarding this species.  Grobman personally examined more than eight-hundred examples of O. vernalis from the collections of many different museums and included additional data acquired for him by others.  This massive accumulation of scale counts was entered onto the then state-of-the-art sorting medium of IBM punch-cards and was analyzed by "various interpreting machines."  Grobman acknowledges receiving "information on biometrical methodology" from Lawrence M. Klauber, an engineer by training who was instrumental in establishing statistical techniques in herpetology in the early twentieth century.  Clearly this monograph was technologically advanced for the time in any of the biological disciplines.
The main conclusion of this research, however, was that O. vernalis was comprised of two geographical races diagnosable by ventral count and that each race occupied a distinctive habitat.  The new, western race was named Opheodrys vernalis blanchardi in honor of Dr. Frank N. Blanchard, "in recognition of his remarkable achievements in herpetology."  Despite all the biometry that went into its discovery, the diagnosis of the new race was remarkably simple: "A smooth-scaled Opheodrys usually with less than 140 ventrals in the females and 131 in the males."  All of the unequivocal Texas specimens of O. vernalis are referable to the race blanchardi.
Grobman was somewhat dogmatic, however, concerning his paradigm of the acceptable range and habitat that could be occupied by O. vernalis.  He was apparently impressed by the observation of Roger Conant (1938)  in Ohio, where both races are found, that the Smooth Green Snake occurred only in localities that had been glaciated during the Pleistocene.  Plotting of his locality records confirmed  this was the southward limiting factor in populations located below 1000 feet in elevation (the red line in the map below). 
Distribution of specimens of Opheodrys vernalis available to Grobman for his monograph.  (After Grobman, 1941)
Ironically, confusion with the superficially similar Rough Green Snake, O. aestivus,  seems to be involved with a number of controversial records of putative Smooth Green Snakes from other southern and Midwestern states, even though Grobman stated in the introduction of his revision, "As a species it [Opheodrys vernalis] is remarkably distinct and cannot conceivably be confused with any other American species" (Grobman op. cit.).
 The Post-Grobman specimens
Austin County 1 (1949) - On April 23, 1949, William B. Davis and a group of his students from Texas A&M College stopped along a roadside about 2.5 miles west of Sealey, Austin County, Texas to examine a temporary rain pool in the open prairie.  In the short grass of the highway right-of-way, they discovered and collected a single specimen of O. vernalis.  Davis gave few details about the snake other than it had 137 ventrals and, therefore, was referable to Grobman's newly proposed western race blanchardi. Unthinkable by today's standards, neither the collection in which the specimen was deposited nor its catalog number or sex were mentioned in the published note in the journal Copeia). 
Instead, Davis chose to confront Grobman's apparent dogmatism in refusing to accept records of O. vernalis from Texas (as well as several other southern states) as genuine; Grobman had in fact dismissed these records with the almost flip comment that they "are obviously in error."  Davis' irritation is apparent when he writes, "His main points of argument are that specimens were either outside his [emphasis Davis'] accepted range or that the collector's data are unreliable."  Davis instead proffered an analogy between the isolated Texas records for the Crawfish Frog, Rana areolata, which his group also collected at the same location and the disjunct nature of O. vernalis populations in Texas.  "Because of this recent capture of vernalis, I am inclined to accept the records from Bosque, Ellis and Matagorda counties, Texas as authentic" (Davis 1949).  Unfortunately for Davis, Grobman was eventually shown to be correct (perhaps for the wrong reasons) about the first two of those three localities.  This specimen is located in the Texas Cooperative Wildlife Collection at Texas A&M University under the catalog number TCWC 3273 (Worthington op. cit.).
Austin County 2 (1953) - Four years after reporting an O. vernalis from near Sealy, Austin Co., Texas (Davis op. cit.), W.B. Davis reported another specimen, a female, from 8 miles south of Sealy.  Scale counts are given, which also place this specimen in the subspecies blanchardi, as would be expected.  The snake was collected in a "meadow" and presented to the author.  Davis then devotes the remaining three paragraphs of the short four paragraph paper to again refuting Grobman's (op. cit., 1950) claims that the Texas specimens could not be naturally occurring.  Unfortunately, Davis again refers to the Ellis County (Waxahachie) specimen, which was later shown to be a misidentification, and to the mysterious "southern Oklahoma" specimen (doubtless KU 2537, although not cited as such) (Davis 1953).  Again the disposition of the specimen is not stated in the note reporting its existence, but according to Worthington (op. cit.), it is in the TCWC as #10589.
Brazoria County (1961) - Under the "news and notes" section of the Texas Herpetological Society News Letter, which he edited, John E. Werler (1962, page 4) describes finding large concentrations of snakes on high ground south of Angleton, TX, the previous fall, as a result of flooding associated with Hurricane Carla.  Among them were three Opheodrys vernalis.  These specimens were taken to the reptile house at the Houston Zoo where, upon their failure to thrive, they were preserved and apparently kept at that facility.  In fact, shortly thereafter I was personally shown a jar containing one of these snakes, which had assumed the characteristic post-mortem bluish coloration (it had apparently been green in life).  Although the reptile house staff was aware of the significance of these specimens, the snakes apparently were never placed into a permanent collection. 
In their magnum opus on the snakes of Texas, Werler and Dixon (2000) added very little information to that contained in the newsletter 38 years earlier:
"Most smooth green snakes found in Texas were discovered during late April and early June, usually following rain showers.  An opportune time to find these elusive snakes is immediately after a hurricane or severe storm, when the rising waters have inundated the low-lying coastal prairies, forcing many of the local terrestrial snakes from their hiding places.  It was after such a hurricane that two smooth green snakes were discovered near Angleton, crawling over clumps of grass on one of the few available spits of high ground." (Werler and Dixon 2000). 
Unexplained is how the number of snakes taken changed from three in the original newsletter report into two in the subsequent account.  Regardless, given the reputation of John Werler, plus the fact that I personally saw one of the preserved specimens, I accept this sketchy evidence as valid, especially so considering how few Texas records exist.  Interestingly, even though Werler himself collected the  Brazoria County specimens, he and Dixon (op. cit.) declined to include this record via a dot in their distribution map for this species (the maps in this volume tend to be extremely conservative—although highly detailed— generally omitting records for which extant museum specimens could not be located).
Continue reading "The Emerald Ghost: A History of the Smooth Green Snake (Opheodrys vernalis) in Texas and Adjacent States." »